Find out what we can do for you!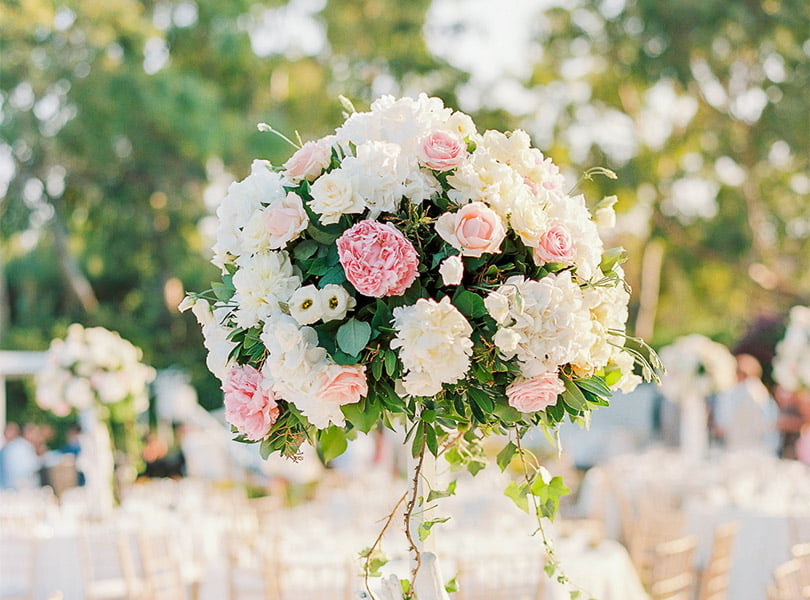 has a full-service floral design and production studio in-house, which means we can create whatever you are dreaming of and at the same time you won't find yourself sharing the same bouquet or flower arrangement with half a dozen other brides around the city. The signature look we are known for incorporates big romantic blooms, fruiting branches, twisting clematis vines and various types of natural foliage you can find growing in nature, however we can create whichever floral style you feel will better suit your personal style and advise you according to the latest wedding flower trends across the globe.
In order for you not to feel confined by seasonality or natural borders, we source flowers from around the world and discover the best blooms in the five continents to please your any need.
Of course, we also work closely with local flower farmers, who grow their produce specifically for our weddings, in order to remain eco-conscious and utterly unique.
and ever-growing collection of compote bowls,
vases and urns offers limitless options and arrangement choices, so that together we can create the best outcome for your glorious celebration day.
Venue Sourcing
Wedding Permits & Licences
Church & Ceremonial Arrangements
Catering & Bar Services
Candy Bars / Luxury Lemonade Stands
Seating Charts & Plans
Music & Entertainment
Photo & Video
Creative Direction & Interior Design
Floral & Table Arrangements
Wedding Cake & Desserts
Wedding Dress & Groom's Attire sourcing
Hair & Make Up
Furniture & Tent Rental
Sound & Light Production
Travel & Transport Logistics
Personalised Wedding Website Creation
Special Effects (Fireworks, 3D mapping etc)
Invitation Design, Printing & Delivery
RSVP / Guestlist Management
Valet Parking & Security